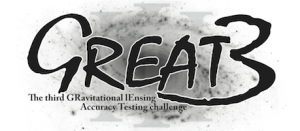 We tested our procedure for shear estimation by participating to the Great3 weak lensing analysis competition. Along the lines of the previous Great+ and Step+ challenges, the Great3 challenge was a 6-month data analysis challenge for weak lensing cosmology, which ended on Apr. 30th. Participants were given large datasets of images of stars and distant galaxies, simulating ground-like and space-like observations, and were challenged to derive the underlying unknown shear.
Several levels of complexity were tested in the simulations: real galaxies with HST morphology or analytical Sersic profiles, single stack measurements or multi-epoch datasets, constant or variable PSFs, constant or variable shear, and a combination of all of these effects.
The Amalgam procedure ranked second (out of 19 teams) in the overall competition, and we were able to derive a low-systematic shear estimate in most test branches.